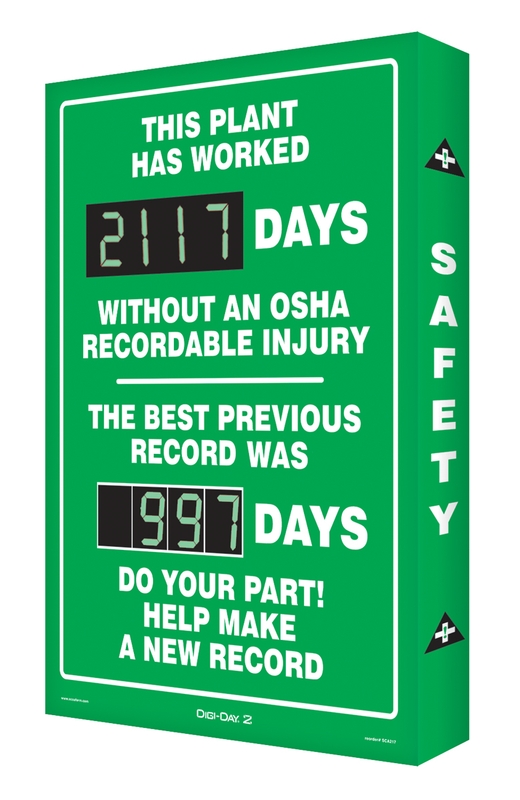 Digi-Day® Family of Electronic Scoreboards: This Plant Has Worked _ Days Without An OSHA Recordable Injury - The Best Previous Record was _ Days
Count your safe days, proudly display your safety record & encourage raising the bar.
Encourage people to take their own safety record in their hands
Simultaneously count the days with an OSHA recordable accident, while displaying the safety record
For indoor use
Built-in hidden rear mounting brackets
Four-digit, bright LED display
Operates on 110 VAC with 6-ft. power cord
Related Products
Scoreboards featuring
"best previous record"
include:
One (1) electronic display to count safe days and One (1) magnetic display with changeable numbers set to track record number of days.
Scoreboards count up automatically each day to keep track of your company's accident-free workdays and motivate employees to work safely. It's an eye-catching, interactive way to inform and alert employees while promoting safety!
• Innovative, durable, frameless construction
• Made of lightweight, sturdy aluminum
• Image goes right to the edge then wraps around
• 2" deep visual edge for unmistakable visual impact
• Display count can be set to freeze or hold
• In a power failure, all information is stored
• Tamper-proof display easily sets with handheld remote control
• Built-in hidden rear mounting brackets
More
Less