Build a Stronger Business With Custom Solutions
Personalized safety communication systems help companies comply while building a sense of community and identity.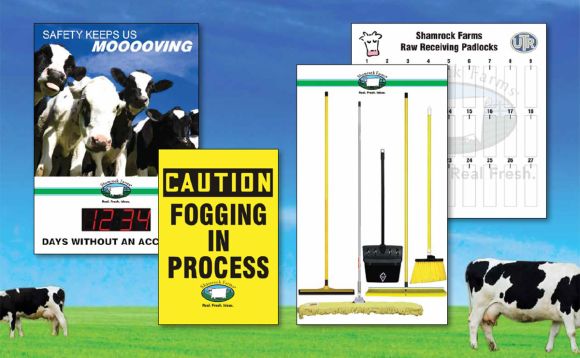 Every workplace is unique. Accuform understands that, while standardization is essential to the safety of workers and consumers, a successful safety program must be designed with the specific needs of each individual workplace in mind. The custom safety communications experts at Accuform can create a system of safety standards that work for you.

Read about our recent work with the seventh largest food distributor in the USA. Shamrock Foods strives to meet and exceed the rigorous health and safety standards of its industry and had a need to reduce the number of accidents resulting from the handling of hazardous chemicals. It is also a family-owned business that values its heritage and earnest relationships with employees and customers. Accuform met the challenge of designing a 5S Lean and safety program that would increase employee and customer safety while enhancing a sense of corporate identity.

Recognizing the demand for a safety communications strategy that would accommodate a largely bilingual workforce, Accuform developed an intuitive, user-friendly program, providing signage that helped employees visually identify safety requirements. This comprehensive signage program was facility-specific and personalized with the company's lovable corporate mascot.

The result was heightened morale, a more efficient workspace, and fewer accidents. The owners of Shamrock Foods expressed an increased sense of control over their facility and their business. Find out how the customization experts at Accuform can help you comply with safety regulations and build a better business.